Pub Quiz Information
Instructions for teams who have all team members in the same household
You will need to set up one device to participate in the quiz – we recommend using your work laptop to join the Microsoft Teams pub quiz.
Instructions for teams who have members in more than one household
You will need to join up remotely. If all of your team are in the same household you can ignore these instructions.
You will need to set up two devices to participate in the quiz – use your work laptop to join the Microsoft Teams pub quiz and another device to use to log onto a Zoom meeting or a platform of your choosing.  
One person from each team will need to set up a 'Zoom' meeting. Zoom will be used as a social platform for each team for general discussions and to discuss answers. Only members in your team will be able to log into your Zoom meeting.
How to set up a Zoom account?
You must have a Zoom account to create a Zoom meeting. To sign up, go to: https://zoom.us/signup and follow the instructions to add in your date of birth, email address (this can be work or personal) and password. Please note you only need an account to set up a Zoom meeting. You do not need one to join a meeting.
How Do I Host A Video Meeting?
To sign into your Zoom account on your personal device, go to http://zoom.us and click on Sign In.
You can use the "e-mail" and "password" that you have created.
If you do NOT have the Zoom app installed, go to zoom.us and select "Host a Meeting" to start the installation on your selected device. Please not you cannot download Zoom on your work laptop. If you DO have the App installed, see below
Go here to watch the video on how to schedule a meeting via Zoom: https://support.zoom.us/hc/en-us/articles/201362413-Scheduling-meetings
Once you're signed in, click on 'Schedule a meeting' and complete the form.
Select the options shown on the right hand side of the screen: 
Click 'Save'.
This now takes you to another page. Select 'copy invitation' then select 'Copy Meeting invitation'.
Paste the invitation details in an email then send out to the rest of your team.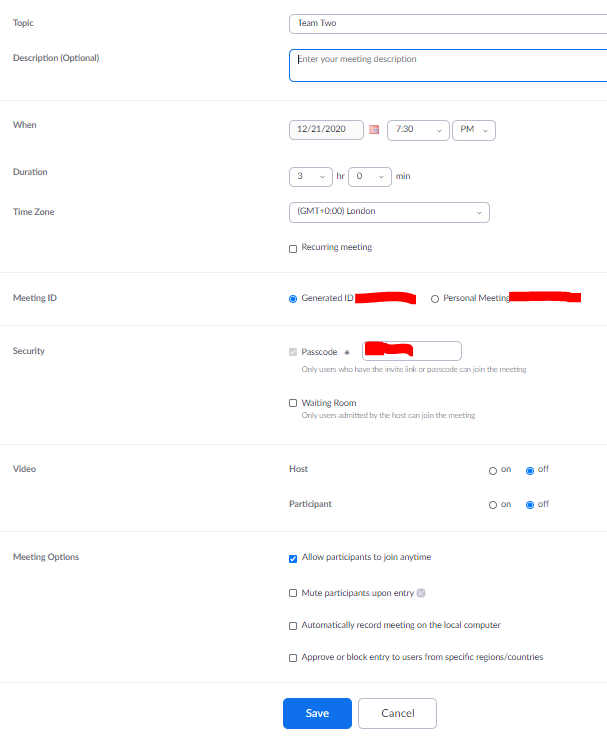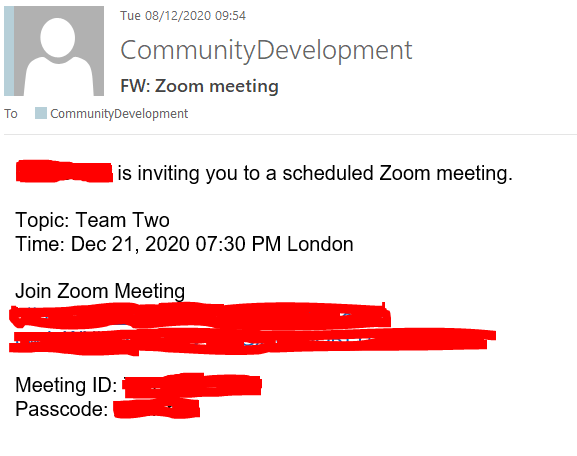 Details for participants
A Zoom account is not required if you are strictly joining
Zoom Meetings as a participant. If someone invites you to their meeting, you
can join as a participant without creating an account. Participants will be
required to download the Zoom app on their personal device.
Participants will be able to click on the link under 'Join
Zoom meeting' in the meeting invitation that was sent by the host. If you are
using an alternative device, you can also join by adding the meeting ID and
passcode.
The meeting invite should look like this on the left. 
Once clicked on the Zoom meeting link you will be taken to
the Zoom meeting with your team members.
Quiz
The Palmer Brothers will host the quiz on Microsoft Teams.
For each question, you can discuss answers on Zoom with your team. Please log
into your team Zoom meeting by 7.30pm, ready for the quiz.
 Scoring
Teams will score their own answers so, for everyone's enjoyment, we ask you to be 100% honest in your marking and not use Google or Shazam for example!
Nominated captain from each team will send through their scores to Quiz HQ via quizhq@wealden.gov.uk at the end of each round.
The email should include a header with the round, team name and score for the round just completed e.g.: ROUND 5 – TEAM TWO – 27